Entertainment
Kourtney Kardashian Photoshopped Herself Into Kim's SKIMS Lingerie Photoshoot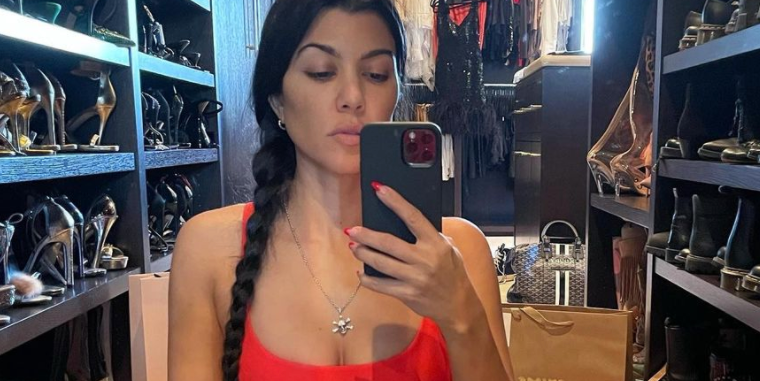 Nobody throws shade quite like a Kardashian and Kourtney is no exception. Kourtney Kardashian recently (lightheartedly) shaded her sisters by pointing out that she was not part of Kim Kardashian's SKIMS lingerie photoshoot. Kylie and Kendall Jenner were part of the shoot and so was Kim (obvs). That's okay, though! Kourt fixed the oversight.
"Since I wasn't invited to the sister shoot …" she captioned a mirror selfie while wearing a fiery red SKIMS Fits Everybody Scoop Neck Bra and the SKIMS Fits Everybody Micro Thong. Kourt then proceeded to post multiple photoshopped photos wearing the lingerie alongside her sisters and in front of various fake backgrounds…LOL.
This content is imported from Instagram. You may be able to find the same content in another format, or you may be able to find more information, at their web site.
First, we have Kourt photoshopped into the SKIMS photoshoot alongside Kim, Kylie, and Kendall. She simply captioned the pic, "Don't worry I got you!" Fans praised Kourtney for poking fun with her lingerie photos. "Hahahahaha Kourtney you are the legend, I can't stop laughing 😂😂😂😅," one user wrote. Another added, "Queen of petty 😍." One fan simply commented, "Stir 👏 the 👏 pot 👏."
Kourtney also shared a photoshopped photo of herself on a tropical beach that looks totally natural… yep, not fake at all.
Despite the photoshoot drama, Kourt's life is going well. Her new boyfriend, Travis Barker, is super into her (as he should be) and she's living her best life. "Kourtney and Travis are officially a couple," a source tells Us Weekly. "They have been close friends for years and have been dating for a couple months. Travis is very smitten with Kourtney and has been for a while."
All I have to say is keep it up, Kourt because whatever you're doing is working for ya.
---
You love all the deets on celebrities. So do we. Let's overanalyze them together. ✔️
---
This content is created and maintained by a third party, and imported onto this page to help users provide their email addresses. You may be able to find more information about this and similar content at piano.io
Most Related Links :
verity news now Governmental News Finance News