Entertainment
Surprise Your Wife or Partner With These Oh-So-Pretty Gift Ideas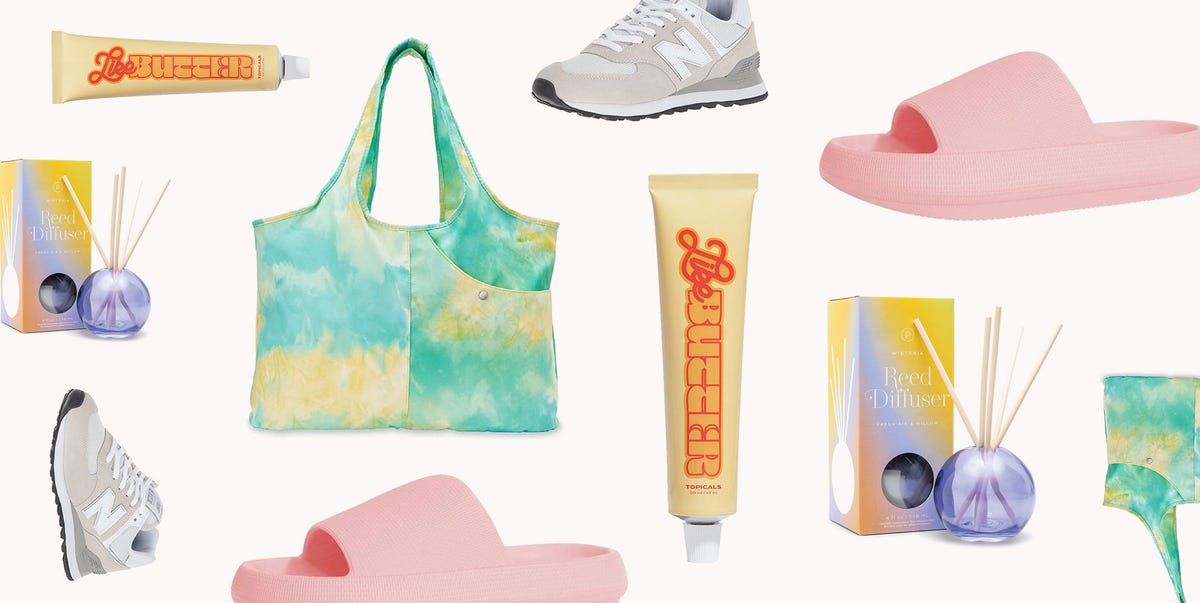 Theoretically speaking, it should be easy to pick out a gift for your wife or spouse, right? I mean, you married the person, so you know better than most what they want and what they might need. But in reality, finding the perfect gift year after year only gets harder as you run out of ideas. If you have not a clue what to get your other half but know better than to show up to the occasion empty-handed, let me help ya out with some of the best gift ideas for your wife or partner that I know they'll like.
As someone who is a wife, I'd say I have a pretty good idea of what your spouse might want as a gift, be it for a birthday, your anniversary together, or just to say you love 'em (wish I would get more of those kinds of gifts, TBH). Here, you'll find ideas for newlyweds in a new relationship, relaxation gifts perfect for a new mom, and gifts for the home you share with your favorite roommate ever. Oh, and if you want to be on the receiving end of the gift, just leave this page open on your web browser for your spouse to find (*hint, hint*), and thank me later.
Advertisement – Continue Reading Below
1
this cute diffuser
Realm Reed Diffuser, Size One Size – Blue
Paddywax
nordstrom.com
$37.00
The only thing better than a diffuser that gives off a clean, floral scent throughout the room is one that doubles as fun home decor, like this purple glass one.
2
these sweat shorts
Women's Comfy Sweat Shorts
Ezymall
amazon.com
$19.98
They might have sweatpants in every color but sweat shorts?! Consider these drawstring bbs (with pockets!) their new go-tos.
3
this knit dress
Sexy Tie Dye Mini Dress
If they don't trust you to pick out clothes for them, take our advice and go with this dress. As long as they love mini dresses and a lotta color, you can't go wrong with this one.
4
this lip gloss trio
Mini Wet Lip Oil Plumping Treatment Gloss Set
If your lover is anything like me, they could use a whole set of plumping lip glosses for when they inevitably go misplacing one. This trio of sheer nudes is one they'll want to keep up with though.
5
this spicy scented candles
Mini Candle Gift Set- Send Moods
FORVR Mood
sephora.com
$48.00
Does your S.O. love coffee? Do they also love fall and all the things associated with it? Then rest assured, they'll love this assortment of fall-scented candles.
6
these sandal heels
Women's High Heel Sandals White
Usually, the kind of shoes that go with everything are—let's face it—boring. But these white sandals are far from it and still easy to wear.
7
these scrunchies
Ultra Soft Microfiber Hair Drying Scrunchies
Go with this gift when you just want to surprise them with a little something. These printed microfiber scrunchies not only look cute, but they also help soak up excess water after wash day.
8
this wine chiller
HC01-A Rapid Beverage & Wine Chiller, White
Cooper Cooler
amazon.com
$89.99
Don't you hate it when you want to surprise your spouse with a nice meal but have no bottles of wine ready to drink? This cooler can fix all that. In just minutes, this device can chill a 77-degree bottle down to an impressive 43 degrees.
9
this super-soft robe
Womens Soft Female Fleece Oversized
Is this a robe or a jacket?! Either way, I want to snuggle up in it, so I'm pretty sure your partner will, too.
10
this cotton bra
Essential Cotton Lounge Bra
Good American
goodamerican.com
$35.00
If they would choose a comfy cotton bra over itchy lacy lingerie any day of the week, they need this stretchy one with light support.
11
this tie-dye tote bag
Women Colorful Large Tote
ZOOEASS
amazon.com
$19.99
Everything from a trip to the beach to a trip to the store is made complete with a durable tote full of compartments and pockets like this one.
12
this bath caddy
Grey Tiled Luxury Wooden Bathtub Spa Caddy Tray
Generic
amazon.com
$39.99
Your beloved deserves a little break from time to time, and this tiled tray for the bath is a must for that.
13
this face mask
Like Butter Mask for Dry, Sensitive & Eczema-Prone Skin
If they love them some self-care, this moisturizing mask is a must for alleviating and restoring dry skin.
14
this percussive massage gun
Finao Affiliate Club – Pink
Total Massage Gun
totalmassagegun.com
$149.00
Next time they beg you for a shoulder rub, reach for this massage gun instead. With four different attachments, they can work out tired muscles all over. 
15
a brass bar cart
Gina Mid-Century Bar Cart, Gold
Linon
amazon.com
$255.99
$229.98 (10% off)
Whether they fancy a nice cocktail or just like to decorate the home you share together, this bar cart would make an excellent accent for your kitchen-slash-dining room.
16
this unique glassware
Creative Glass Cup (2 pcs)
They're gonna need some cool glasses to decorate their new bar cart with, right? This wavy glassware can be used for mixed drinks, to hold flowers, and more.
17
this comfy two-piece
Women 2 Piece Outfit
Three little words your partner loves to hear: comfy lounge set. Oh, they like to hear those three little words too, but there's no better way to tell someone you love them than with an oversized T-shirt and matching bike shorts. (Sorry, I don't make the rules.)
18
this matching set
Mayan Plisse Set Sky
Kai Collective
kaicollective.com
£160.00
This lightweight set is perfect for any occasion, from a beach vacay to brunch with your bestie. Unlike some other pieces in your partner's closet, this set is something they'll definitely get good use out of. 
19
these sneakers
Women's 574 V2 Evergreen Sneaker
New Balance
amazon.com
$79.95
Chances are they've been wanting a pair of these sneakers. And if they already own some of these, gift 'em a new pair in one of the dozens of other colorways.
20
this travel haircare set
Mini Baomint Deluxe Travel Kit
adwoa beauty
sephora.com
$56.00
If your love keeps the bathtub ledge and countertop full with hair products, then this set (which includes travel-size bottles of all the curly-hair styling products for them to try) is the perfect gift idea.
21
these sweater sleeves
Turtleneck Puff Sleeve Sweater
Eloquii
eloquii.com
$64.95
Sweater weather is coming up fast, so what better gift than a sweater-scarf hybrid with pleated puffy sleeves? With this top, your spouse can stay warm on the way to the office but not sweat their butt off once they get indoors. 
22
these fluffy slippers
Women's Victoria Teddy Criss Cross Slippers
No more listening to them complain about their cold feet. A nice, plush pair of house slippers will keep their toes warm so you no longer have to.
23
these lacy panties
Women's Curvy Lace Back Hipster
Savage X Fenty
amazon.com
$18.50
A lacy pair of panties that they can wear with their lounge set will soon become their new favorite go-tos.
24
these statement hair accessories
Large Tortoise Shell Claw Clip 3.5 Inch (2 Pack)
Textention
amazon.com
$14.99
Your S.O. will love having a claw clip handy, and they'll really love having two prints to choose from with this pack.
25
this gold initial necklace
Initial Letter Pendant Necklace
Trendsmax
amazon.com
$12.99
A pendant on a delicate chain is the way to their heart. Seriously, sometimes it's just that simple. Adding their initial (or yours) on that pendant will only make it sweeter.
26
this terrazzo plant stand
Multi Tube Propagation Kit
Bloomscape
bloomscape.com
$45.00
If your sprouse is looking to grow their plant collection, this propagation kit is a great way for them to do exactly that and use their clippings to decorate at the same time.
27
these bouncy slippers
Slippers for Women
Tell me these thick, cushioned slippers don't look like the comfiest sandals you've ever seen? Yeah, you can't. Needless to say, your partner would love a pair. 
28
this really cute romper
Women's Ivory Summer Pockets Belted Romper
Vetinee
amazon.com
$29.99
They'll love how easy it is to throw together an outfit with this belted romper that they can dress up or down.
29
this makeup gift set
Fresh Face Refresh Makeup Set
Sephora Favorites
sephora.com
$45.00
Give your sprouse's makeup bag an update with this gift bag full of all the products they've been wanting to sample (I've, personally, got my eye on that Patrick Ta brow wax).
30
this trinket tray
Jewelry Organizer Resin Tray
Emibele
amazon.com
$16.99
A cool resin catchall that looks good on its own as home decor and serves a purpose as a jewelry tray is a gift they'll both want and need.
31
this set of sunglasses
Women Small Square Sunglasses
Is gifting 10 sunglasses overkill? Never! This set is perfect for the shopper who has the hardest time picking something out for their partner. They'll love at least one of these, if not more.
32
this statement ring
The Amenze Ring
Oma the Label
omathelabel.com
$69.00
Their new everyday staple will be this resin ring with 18k gold-plated brass. Translation: this is one gift your lover won't be returning.
33
these everyday earrings
14K Gold-Plated 925 Sterling Silver Twisted Rope Round Hoop Earrings
Picking out jewelry for someone else is hard, even if that someone is your life partner. If you already know they love hoops, get them another pair to add to their rotation.
34
this silk sleep mask
Silk Sleep Mask, Sun Rise
If their goal is to get a blissful eight hours of sleep (or more, TBH) every night, they'll appreciate a luxe silk eye mask that helps them accomplish just that. 
35
this nightgown
Women's Sleepwear Lounge Chemise
PJ Salvage
amazon.com
$44.00
If lazy weekends are totally their vibe and they need new loungewear, get them a simple chemise that they'll happily snuggle in when you're watching movies or making breakfast. 
36
this relaxing foot massager
Foot Massager with Heat
If your spouse is on their feet all day long, they'll love a nice massaging device to come home to. And with cold weather approaching, the heating function on this massager makes it even better.
37
this travel bag
Sports Gym Bag
Do they always make vacation plans for the two of you? Then they'll adore a colorful duffel that's great for weekend getaways and also makes the perfect carry-on. 
38
this workout set
Women Seamless Yoga Workout Set
Toplook
amazon.com
$29.80
Whether they wake up early for yoga class or are just generally into hitting the gym, they'll love a matching sports bra and stretchy yet squat-proof shorts in a bright, fun color.
39
this wine selection
Tasting Set
Uncorked by Cosmopolitan
wine.com
$58.99
You and I both know what your partner really wants is a nice bottle of wine—so get them four and make them extra happy.
40
this handbag
Small Top-handle Handbag
Want to get your S.O. a handbag and have no idea where to start? Croc-embossed textures are super on-trend, and they can never have too many classic black bags.
41
this soft sheet set
Percale Fitted Sheet
Parachute Home
parachutehome.com
$90.00
Can you have too many pairs of sheets? When they're this comfortable, the answer is always no. Nothing is better than a good night's sleep, and your S.O. will love getting into bed with these (and you) every night.
42
this puffy sleeve top
Daima
I can't decide which part of this top I like the most: the print, the sleeve, or the open-back detailing. Your spouse will probably feel the same. In other words, they'll love everything about it.
43
this comfy hoodie
Comfy Hoodie "Black"
Babes
shopbabes.com
$45.00
For the partner who pretty much lives in their sweats, a new hoodie would be a good practical gift. Maybe (just maybe) they'll finally stop stealing yours.
44
this self-care subscription box
Self Care Subscription Box
TheraBox
cratejoy.com
$30.99
The only thing better than a box full of wellness and self-care products curated by therapists? Lots of boxes full of wellness and self-care products. Give the ultimate gift of relaxation with this subscription service.
45
this sweater dress
Calli Sweater Dress
Line & Dot
amazon.com
$97.00
Sweater dresses are about to be everywhere, but this one stands out with its unexpected slit details up the sides. It'll become your partner's fave thing to wear when it starts to get cold.
46
this floral perfume
Melrose Place Eau de Parfum
OUAI
nordstrom.com
$56.00
You can do no wrong with a rich rose fragrance that has notes of cedarwood, jasmine, and bergamot. Plus, the top is magnetic so it easily comes off and on, and they won't have to worry about losing it.
47
this portable speaker
WONDERBOOM 2 Bluetooth Speaker
Ultimate Ears
amazon.com
$159.99
Sometimes all they want to do is dance with the music as loud as it goes, and a Bluetooth speaker like this will let them live out their dreams. This baby has a 13-hour battery life and is waterproof in case of any spills. 
48
these cropped pants
The Straight Leg Crop – Sandstone
everlane
everlane.com
$68.00
With fall approaching, they'll love a pair of straight-leg cropped pants in a neutral shade that goes with everything—especially if they're tired of their plain ol' denim. 
49
this candle
Sorbet Scented Candle
MAISON LA BOUGIE
nordstrom.com
$55.00
Another candle to add to their collection? Don't mind if you do! If your partner has a different candle for every mood, they'll want this fun one (which has notes of wild strawberries, peaches, basil, and cloves) for when they're feeling sweet.
50
this skincare set
The Essential Set
Best of Dermstore
dermstore.com
$60.00
This gift set full of all the skin essentials (and a bonus hair product) is worth $186, but you can get one for your S.O. for only—wait for it—$60!
51
this outdoor wine glass
Rose Insulated Stainless Steel Stemless Wine Glass
CORKCICLE
nordstrom.com
$27.95
An insulated wine glass will keep any drink chilled (champagne or chardonnay, anyone?), and you can choose from four colors. 
52
this marble and gold picture frame
Marble Tabletop Frames
Aaron Probyn
westelm.com
$50.00
Framed photos from your wedding, engagement shoot, or just a cute candid will make them say "Awwww!" and be quick to put it on display. 
53
this Dutch oven
The Dutchess
Great Jones
greatjonesgoods.com
$155.00
Chic, minimalist cast iron is the perfect present for a gourmand. Its enamel finish makes for easy cleanup, while its heat-retaining ability makes it great for both the stovetop and the oven. 
54
this orchid arrangement
Petite White Orchid
The Sill
thesill.com
$75.00
Every year they probably say, "I don't need any presents," but if you know better than to listen to that, a gorgeous bouquet of flowers is totally the way to go. Even better, a potted flower they can have forever—or at least until it dies.
55
this bubble bath
Breathe Tranquil Bubble Bath
They work hard and need some major zen in their life, so get them a luxurious foaming bubble bath with notes of peony and white lily.
This content is created and maintained by a third party, and imported onto this page to help users provide their email addresses. You may be able to find more information about this and similar content at piano.io
Advertisement – Continue Reading Below
Most Related Links :
verity news now Governmental News Finance News