Taking your gameplay to the next level requires not only skill, but also the correct equipment. Although a great gaming mouse ensures rocksteady aim, you need a proper gaming keyboard with snappy, responsive keys to hone in on your movements. From strafing to crouching, not just any old keyboard will do. Dedicated gaming keyboards offer more comfort, precise control, and added functionality keys than the average keyboard. This makes it easy to streamline abilities in MMOs or dodge bullets in first-person shooter titles. The keyboards here—all highly rated by both reviewers and consumers—provide some of the most responsive touch and customization options on the market, so you can dial in the perfect profile according to each game you play.
Check out quick reviews below of the top five gaming keyboards, then keep scrolling for more helpful buying info and full reviews of those models plus other high-ranking options.
Highly Customizable
BEST VALUE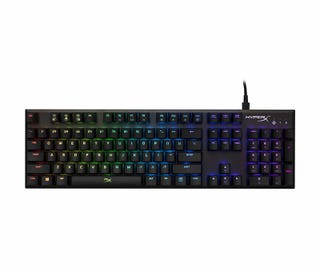 COMPACT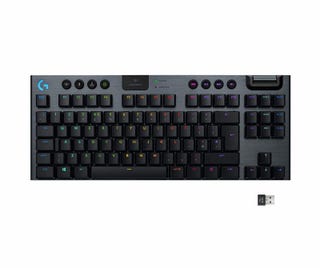 Wireless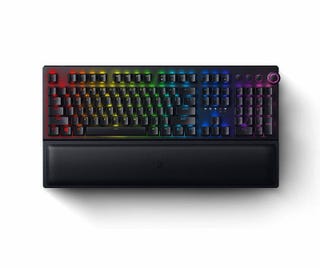 SPEEDY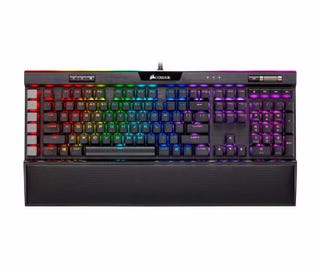 How to Customize a Keyboard
Short of building a mechanical keyboard with your own layout design and key covers, factory gaming keyboards offer plenty of advanced customization options. Beyond aesthetic choices like lighting, you can program key bindings to perform menu shortcuts with a single press. These streamlined commands help you better focus on the in-game action. Outside of gaming, the addition of macro keys can help you create productivity shortcuts in all of your programs. If you often use video editing software to edit gameplay clips, you can assign actions to a macro button so you can create content faster.
Beyond key-specific settings, you can also create specific keyboard profiles tailored to each game that can change key functions and lighting. For example, a Cyberpunk-themed profile might set your keyboard to a neon yellow glow with the Q button bound to a quick attack. Most first-person shooters would map the Q button to a special ability or cover, but with individualized profile bindings you can program each button to perform your desired actions. Certain titles, such as Diablo III, will even use your keyboard's RGB lighting to indicate when you cast a spell or when your character is in low health for increased immersion. With tons of keys and lighting options, your keyboard's body size determines just how many extra buttons or light sections can fit.
Choose Your Keyboard Size
Key Switch Types
Mechanical keyboards use three different types of switches for feedback: tactile, clicky, and linear. Tactile switches, commonly brown, provide a small bump and subdued clack to confirm registered keystrokes. They are the most popular because they offer the feedback of clicky switches with speed similar to linear switches.
Clicky blue switches have a higher actuation pressure requirement to reduce typos while writing, a big bump for validation, and a signature loud click that's music to any typist's ears but a bane to coworkers' and housemates'.
Linear speed switches are great for gaming because they're smooth with minimal resistance and none of the noise of a brown or blue switch. People often bottom out on these red or silver keys since there's no clear indication you've triggered their actuation point. Linear keys fire off on all cylinders, but they're not so great for typing because their zippiness can cause typos.
Lastly, membrane keys aren't mechanical at all and rely on a single mechanism underneath all the keys to register presses. Some people complain a membrane input feels mushy, but it has a longer life than mechanical keys and costs much less since there's no intricate system of multiple moving parts.
It can be tempting to go for a cheap gaming keyboard and save the extra cash for a better gaming PC or monitor, but higher-quality mechanical switches—in addition to more durable materials, like aluminum, in your keyboard—will improve your performance, provide a sturdier base, and increase your reaction speeds.
How We Selected and Rated Them
As Pop Mech's resident Consumer Tech expert and a lifetime gaming enthusiast, I've gone hands-on with some of the most popular gaming keyboards over the years. I prefer the snappiness of mechanical switches, but I've come around to newer membrane options for their quiet and fast keys. This article reflects my own list of the best gaming keyboards that I created to narrow down my next keyboard purchase. Although I decided on the excellent Corsair K95 Platinum XT with speed silver switches, everybody is different, and you need to prioritize what matters to you in terms of functionality and size constraints.
We also researched expert sources such as Tech Radar, PC Mag, and PC Gamer, and consumer reviews to select the top ten gaming keyboards of the year. Our Consumer Score represents the percentage of customers who rated the product at least four out of five stars on retail and review sites like Amazon, Best Buy, and the manufacturers' websites.—Hunter Fenollol
—HIGHLY CUSTOMIZABLE—
SteelSeries Apex Pro
Consumer Score: 94% gave it 4 stars or more
Size: Full | Key Switch Type: Adjustable actuation | Connectivity: Wired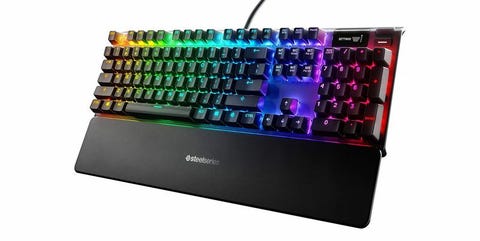 The Apex Pro leads the pack with its OLED smart display screen, sophisticated design, and tunable actuation force for each individual key. You read that right—you can control the pre-travel distance of each key with ease. Whether you want to reduce typos at a higher actuation point or ensure rapid typing at a minimal one, this feature works well and is incredibly unique. This keyboard is quiet and comfortable—not to mention highly customizable using SteelSeries' Engine software. This program allows you to create extensive profiles and customize everything from key bindings to the information shown on the OLED screen. You can use the keyboard's distinct screen as an in-game HUD for compatible games, monitor for apps like Discord, or even as a GIF display. Tech Radar also praised the design, writing: "The aluminum frame of this laptop is just big enough to house it, without too much excess. There is no space wasted on the sides, as the Apex Pro virtually ends where the keys stop." Although it definitely falls on the expensive side, you get features and appearance equal to the investment.
—BEST VALUE—
HyperX Alloy FPS RGB
Consumer Score: 91% gave it 4 stars or more
Size: Full | Key Switch Type: Blue, red, or silver | Connectivity: Wired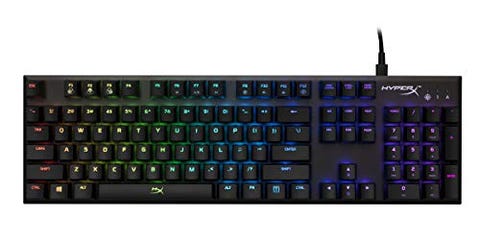 At under $60, HyperX's Alloy gaming keyboard is an accessible model that packs impressive high-end features. Its solid steel frame houses fast mechanical switches and double-shot PBT keycaps for extra brightness and durability. You don't get dedicated media or macro keys, but the build quality and performance easily help you forget about them. The lights are customizable through HyperX's Ingenuity software, and you can store up to three profiles onboard the device. As far as actual use is concerned, it's great for both work and play and quiet enough to use even at night. You can choose between Cherry blue, red, and silver speed switches, all of which are easy to use and function well. The biggest complaint by RTings reviewers was the lack of comfort. They wrote: "Unfortunately, the ergonomics are only okay, as it doesn't come with a wrist rest and has only one incline setting, but typing on it shouldn't cause much fatigue even during long gaming sessions."
—COMPACT—
Logitech G915 TKL
Consumer Score: 93% gave it 4 stars or more
Size: Tenkeyless | Key Switch Type: Clicky, linear, or tactile | Connectivity: Wireless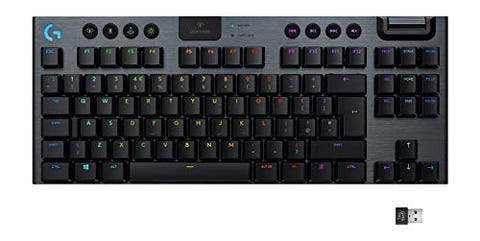 With an ultra-thin design that can effortlessly slide into a backpack, low-profile keys, and a slick brushed aluminum chassis, the G915 TKL is the ultimate compact wireless gaming keyboard. Each key press registers instantaneously at a speed below 1 millisecond using Logitech's Lightspeed technology. Although the tenkeyless design cuts the number pad, Logitech still provides dedicated media keys. The low-profile keys give you the feeling of a mechanical keyboard without the bulk of a full-sized body. With more room to maneuver your mouse, a battery that lasts for hours, and fully customizable RGB backlighting, the G915 TKL is a slick travel companion. Although we wish there was a wrist rest and more macro functionality for the price, this is a high-quality board that will survive your trips. Whether you're heading to an esports tournament or moving your setup to a different room in your house, the G915 is a portable powerhouse.
—WIRELESS—
Razer BlackWidow V3 Pro
Consumer Score: 83% gave it 4 stars or more
Size: Full | Key Switch Type: Tactile or linear | Connectivity: Wireless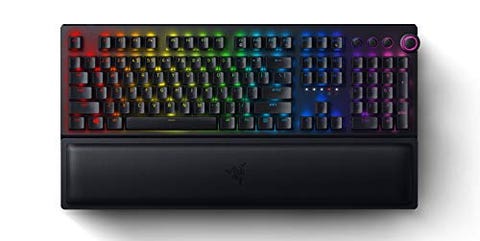 The Black Widow V3 is one of the best gaming keyboards available. The Pro model makes a good keyboard great by adding lag-free wireless performance. Blending extensive features, snappy keys, and durable construction, the Black Widow V3 Pro is the best built wireless gaming keyboard and a pleasure to use. Its full-sized body packs full-height keys to match for an unaltered typing experience anywhere you go. Complete with mechanical tactile green switches, the 50-gram actuation requirement offers a satisfying bump and feedback while typing and gaming. Dedicated media keys with a customizable multi-function dial, a plush magnetic wrist rest, and double-shot ABS keycaps round out a comfortable high-performance package. Its full-size makes it difficult to travel with, and you're paying a premium to cut the cord over its equally excellent wired edition, but the Black Widow Pro V3 Pro brings a masterclass silhouette into the next generation by cutting the cable.
—SPEEDY—
Corsair K95 RGB Platinum XT
Consumer Score: 95% gave it 4 stars or more

Size: Full | Key Switch Type: Blue, brown, or silver | Connectivity: Wired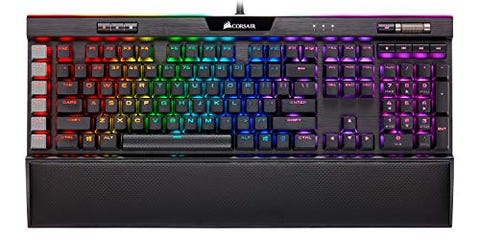 The Corsair K95 Platinum XT has just about everything you could want, including powerful macro keys that are compatible with Elgato's Stream Deck software and a cushioned synthetic leather wrist rest. It features a sleek, brushed aluminum chassis with a standard 104 keys, including a row of dedicated media keys. Paired with Cherry MX speed silver switches, this model offers one of the fastest inputs with minimal key travel. The plush wrist rest breathes well, making it one of the most comfortable around for extended gaming sessions. In order to customize your keyboard, you can use Corsair Utility Engine (CUE) software to change the color and create game profiles. The RGB lighting is also incredibly versatile and can be made as outrageously tacky as your gamer heart desires.
—ONE-HANDED—
RedDragon K585 Diti
Consumer Score: 85% gave it 4 stars or more
Size: One-handed | Key Switch Type: Blue, brown, or red | Connectivity: Wireless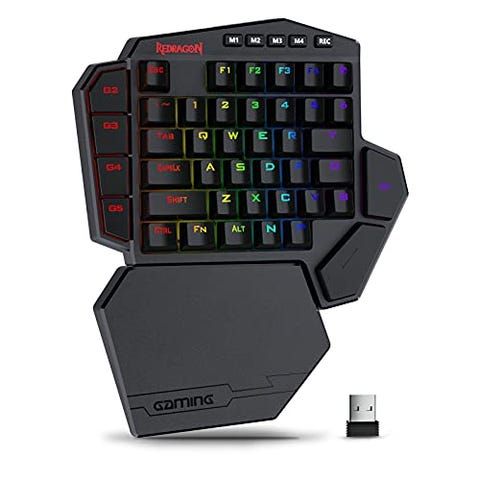 Reddragon's K585 Diti cuts your average keyboard in half. Although MMO or ability-based game players might lament the lack of buttons, first-person shooter fans will appreciate the smaller footprint and streamlined control scheme for maximum focus during competitive play. You have direct access to every useful action key in a slim and tactile format. Making up for the lost keys, you can customize seven macro keys for quick commands or abilities. The keyboard is wireless, however it lacks Bluetooth support. In practice, the key travel and bump feel great, as does the magnetic wrist rest that supports you during marathon gaming sessions. The Diti is an impressive stand-alone keyboard that's functional, aesthetically pleasing and customizable, but you'll still need to keep an actual keyboard handy if you'll be typing in the team chat.
—EXCELLENT DESIGN—
Roccat Vulcan 120 AIMO
Consumer Score: 89% gave it 4 stars or more
Size: Full | Key Switch Type: Tactile | Connectivity: Wired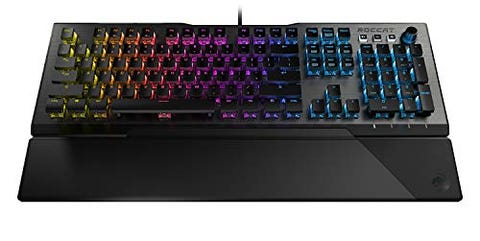 For a mid-range gaming keyboard, the Vulcan 120 won't disappoint. To start, it's an incredible machine wrapped in a stunning package. The aluminum body, RBG lighting, and exposed keys give the board a truly unique and somewhat industrial look. The Roccat Titan switches are similar to Cherry MX brown switches, but the company claims they reduce bounce time by 20 percent for faster gameplay and typing. There aren't any macro keys, so if you prefer to have them, look elsewhere. The Vulcan also comes with an attachable wrist rest, but you might be better served changing it out for a different padded one, as this is made of a hard plastic.
—CONSOLE COMPANION—
Razer Turret
Consumer Score: 82% gave it 4 stars or more
Size: Full | Key Switch Type: Green | Connectivity: Wireless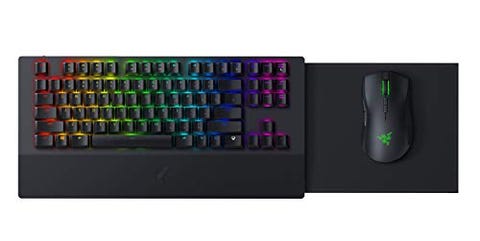 Razer's Turret all-in-one lapboard combines a cordless tactile green switch keyboard with a high-performance wireless mouse for a tactical battle station meant to be used from your couch. Marketed specifically for gaming consoles, there's even a dedicated Xbox dashboard button. A magnetic mouse pad retracts for easy storage but slides right out for play time. We wish there was more support for Xbox One titles, but Xbox Dynamic Lighting ensures color-changing immersion in the titles that do support the board. Plus, the Turret works even better on PC, so feel free to plug your gaming rig into a TV and dive into your backlog.
—MODULAR BODY—
Mountain Everest Max
Consumer Score: 89% gave it 4 stars or more
Size: TKL to Full | Key Switch Type: Blue, brown, red, or silver | Connectivity: Wired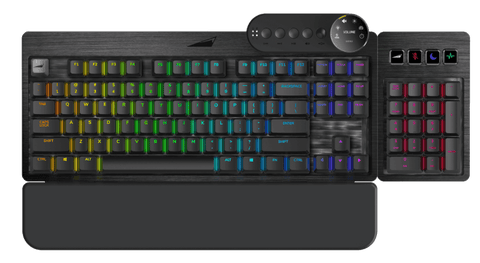 The Everest Max is completely customizable—at any given time, you can change the switch type and the keyboard's size. Add the number pad for a full-sized experience while you work. If you like to listen to music or podcasts during the day, attach the media dock controls to the left or right side of the keyboard based on your preference. For added comfort, a magnetic PU-leather wrist rest provides support for extended sessions and is removed easily for travel or when you need more room on your work surface. Granted, the price is eye-popping. But the quality aluminum construction, hot-swappable switches, advanced Base Camp customization software, and a USB Type-C connector ensure that this keyboard will last for years to come.
—MEMBRANE—
Klim Chroma Wireless
Consumer Score: 85% gave it 4 stars or more
Size: Full | Key Switch Type: Membrane | Connectivity: Wireless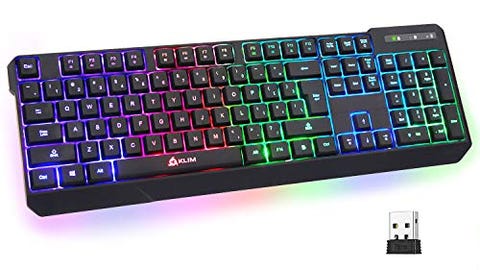 Amazon best-sellers can be hit or miss, but Klim's Chroma Wireless delivers on its promise of speedy response times and impressive lighting for an unbelievably low price. Although we'd die on any hill about the superiority of mechanical switches, the Klim Chroma's silent strokes, low response time, and reactive keys make for a convincing argument in favor of membrane keyboards. The slim ABS chassis is durable, waterproof against spills, and aesthetically pleasing with strong RGB backlighting. Key presses register quickly, and reviewers are impressed by the snappy, not mushy feedback. This is the most affordable keyboard on this list, but those savings will cost you Bluetooth connectivity. Chroma features a function button for shortcuts like volume control on the F-keys. Despite its lightweight, this is a full-sized keyboard complete with a number pad.